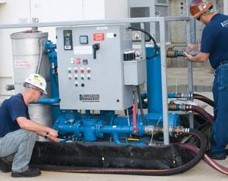 Oiling systems are the leading factor in the reduction of oil and grease consumption, as well as bearing failure.
Oiling-greasing systems eliminate the human factor, which can occasionally "forget" to grease machinery. This forgetfulness is sustained by the very nature of lubrication – a hated, dirty and unrewarding job.
Manual greasing is greasing without any control over the amount of grease placed into the bearing housing, which usually results in the generation of high pressures in the bearing housing, which necessarily cause the collapse and rupturing of the bearing seals, penetration of moisture, dirt and dust, which shutdown the bearing and result in production losses.